Share this URL: https://circulareconomy.peatix.com/
Event is FINISHED
Circular Economy: Closing the Loop 「サーキュラーエコノミー」上映会 & トークイベント
**日本語以下**
On 1 March 2019, the Circular Economy Club Tokyo (CEC), Social Innovation Japan and So Now will be hosting an exclusive screening of "Closing the Loop", the world's first feature-length documentary film on the circular economy!
Discover how businesses can make the change from a linear "take-make-waste" economic model to circular, zero waste or cradle-to-cradle, with live commentary and discussion from industry experts.
Supporting the UN Sustainable Development Goals (SDGs), the documentary explores 5 key strategies for achieving circularity – Reduce, Reuse, Recycle, Renew and Reinvent – by showcasing global examples and featuring expert insights. At this exclusive screening, we will show the most relevant parts of the film alongside live commentary and panel discussion from industry leaders, applying 5 circular strategies and learnings of the documentary to the Japanese context.
The panel of experts will include:
Closing the Loop is created by Emmy Award winner Graham Sheldon and presented by Wayne Visser, Professor of Integrated Value at the Antwerp Management School and a Fellow of the University of Cambridge Institute for Sustainability Leadership. Watch the trailer here!
KEY TAKEAWAYS
Understand

the potential and implementation of Circular Economy

Learn

about what is happening in Circular Economy in Japan and abroad.

Hear

others speak of circular challenges and how to overcome them

Explore

what collaboration or next steps may lie ahead.

Interact

with a diverse group of people (entrepreneurs, corporate employees, students, nonprofits, etc.).
TARGET AUDIENCE
Organisations and individuals wanting to understand the potential and implementation of Circular Economy
Corporates and startups looking to enhance the sustainability of their operations and integrate CE into their value propositions
Environmental NGOs, startups and businesses
Students, academics, researchers on issues related to circular economy/sustainability
Government stakeholders (incl. embassies)
LANGUAGE
Film: English with Japanese subtitles
Discussions: English

FACEBOOK EVENT PAGE - Here


SCHEDULE
18:00: Doors open, finger food
18:30 - 21:15 Screening/Discussion Sessions, Q&A
21:15 - 21:45: Time to relax & mingle with drinks
21:45: Close


TICKETS
General Admission: 3000 JPY (including finger food and drinks)*

*Tickets will NOT be available on the door. Please purchase your tickets in advance. Spaces are limited, and will be allocated on a first-come, first-served basis.

ORGANISED BY: Circular Economy Club Tokyo, 一般社団法人Social Innovation Japan, So Now
SUPPORTED BY: Gaiax Co.Ltd.

*Special thanks to volunteers Rie Sawara-Cermann & Miho Soga for their remarkable efforts to make Japanese subtitles for the film.


=====


[世界初のサーキュラーエコノミーのドキュメンタリー映画]

この度Circular Economy Club Tokyo(CEC)、一般社団法人Social Innovation Japan、So Nowの共催で、世界初のサーキュラーエコノミーのドキュメンタリー映画『Closing the Loop』上映イベントおよびパネリストディスカッションを開催します!

この映画では"取る・作る・捨てる"の一直線型ビジネスモデルを止め、ゼロウェイストや"ゆりかごからゆりかごへ"といった循環ビジネスモデルに転換した世界のパイオニア企業を取材しています。

今回のイベントでは、SDGs(持続可能な開発目標)の達成に関わってくる5つのサーキュラー戦略"5R"(Reduce、Reuse、Recycle、Renew、Reinvent)にフォーカス。

パネリストには、国内外のサーキュラービジネスの一線で活躍する各界の専門家を迎え、参加者のために映画中の"5R"についてライブ解説していきます。ディスカッションでは日本のサーキュラーエコノミーとはなにか?ビジネスへの可能性と課題はなにか?を明らかにしていきます。

パネリスト出演者
- 坂野 晶 ゼロ・ウェィストアカデミー 理事長
- 大川 哲郎 株式会社大川印刷 代表取締役社長
- Eric Kawabata テラサイクルジャパン合同会社 アジア・リージョナル・マネージャー
- Sann Carrière So Now Asia 設立者/代表取締役

映画『Closing the Loop』
製作:グラハム・シェルドン(エミー賞受賞者)
プレゼンター:ウェイン・ヴィッサー教授(The Antwerp Management School、The University of Cambridge Institute for Sustainability Leadershipフェロー)

この上映会は38ヵ国125カ所で上映されます。
映画『Closing the Loop』トレーラー (リンク)

[イベントの参加目的]
- サーキュラーエコノミーの可能性とインプリメンテーションを知りたい
- 日本、海外のサーキュラーエコノミー最新動向について学びたい
- 課題と解決の方法について他の人の意見を聴きたい
- 次のステップ、どんなコラボレーションが必要かを探りたい
- 多様な人々(起業家、企業、学生、非営利団体など)と交流したい

[参加対象者 ]
- サーキュラーエコノミーの可能性・インプリメンテーションを知りたい法人/個人の方
- サーキュラーエコノミーをバリュープロポジションに取り入れて、自社のサステナビリティを向上したい企業とスタートアップの方
- 環境NGO、スタートアップ、企業の方
- サーキュラーエコノミーとサステナビリティに関わる学生、学者、研究者の方
- 政府自治体、公共団体の方(大使館含む)

[言語]
映画: 英語(日本語字幕)
ディスカッション: 英語

Facebook イベントページ:こちら

スケジュール
18:00 開場(フィンガーフードスタート)
18:00 - 21:15 上映/ディスカッションセッション、Q&A
21:15 - 21:45: ネットワーキングタイム
21:45: 閉場

チケット
入場料: 3000円(フィンガーフード+ドリンク含む)
(完全前売り制)

主催: Circular Economy Club Tokyo, 一般社団法人Social Innovation Japan, So Now
後援 : Gaiax Co.Ltd.
**字幕の作成・翻訳: 佐原理枝 & 曽我美穂

====
FACILITATOR: Sann Carrière



Sann Carrière (1983) has a background in Cultural, Communication- and Information Sciences, followed by a Post-Doctoral Fellowship in Japan as a part of the Japan Prizewinners Program. In 2015 and 2016 she was awarded a position in TheNextWomen Top 100. As So Now's owner & founder Sann has been developing her views and tools on the new economy since 2008 from the greater Amsterdam area, the Netherlands. In 2017 she opened the So Now Asia branch office in Singapore. Sann's activities include co-owning a business in the water industry to implement ideas on sustainability, circular economy and transformational change in a business environment, as well as consultancy on circular business modeling & development, collaboration models, supply chain support, applied design thinking and triple bottom-line value models (financial, ecological, social value), 'weaving' and roadmapping. Currently, she is engaged with the Asian roll out of ECOR Technology. In 2016 she was awarded honorary member of the year by Dutch Environmental & Water Technology Association Envaqua. In her spare time, Sann practices yoga, enjoys nature, traveling and likes to dance, read or write about the future.

PANELLIST: Akira Sakano



Akira Sakano is the Chair of the Board of the Directors of Zero Waste Academy, Japan. She provides services on planning and implementation of Zero Waste policies, for both local governments and businesses, and organize Zero Waste Accreditation system for businesses to brand their efforts towards waste reduction. She also delivers more than 100 sessions/lectures annually to advocate about Zero Waste practices. She has a bachelor in the Policy Studies, experienced in various management roles in both non-profit and corporate, in Japan, Mongolia, and the Philippines. Moved to Kamikatsu, the first municipality declared for Zero Waste ambition in Japan, in 2014, and joined the organization Zero Waste Academy. She was selected as the Global Shapers of the World Economic Forum in 2012, and served as a Co-Chair of the World Economic Forum Annual Meeting 2019.

PANELLIST: Eric Kawabata



Eric has worked in sustainability for 10 years, starting as a volunteer in 2008 with Carbon Free Consulting in Japan. He co-founded a non-profit project, Ocean Green Association, in 2009, to study means to lower coastal water temperatures after seeing the impact on coastal ecology and bleaching of coral reef in Japan. Starting work with TerraCycle in 2013, he officially launched the company in Asia starting in Japan in January 2014 and subsequently became Asia Pacific Regional Manager in 2016 Successfully opened TerraCycle in China in the Fall of 2016 and TerraCycle Korea in the Fall of 2017, where they currently operate oral care, hair care, air care and other recycling programs. Prior to his work in sustainability, he was a postgraduate scholar in law at the University of Tokyo Faculty of Law, worked as legal counsel for Morgan Stanley and Deutsche Bank, and served as an executive in the investment banking industry leading privatization and corporate finance teams.

PANELLIST: Tetsuo Ohkawa



Tetsuo Ohkawa is the CEO of Ohkawa Printing, with almost 30 years' experience in the printing industry. Mr. Ohkawa received his LL.B. from Tokai University. Since 1993, he has been joined Ohkawa Printing. In 2005, he became the CEO of Ohkawa Printing. From 2001, due to the influence of the social entrepreneurs he met, he started to consider the possibility of changing society through printing. In 2004, he set up a brand-new vision for Ohkawa printing, a social printing company which aim to solve the problems in the society. The projects Ohkawa Printing conducts, such as "Food Pictogram" - created for people who need to choose specific food due to religion or health condition - all aim to solve social problems. Mr. Ohkawa is devoted to promoting this vision by connecting with NPO, NGO and conducting workshops for citizens, etc.



====




About Social Innovation Japan
Social Innovation Japan (website) is a community of problem-solvers, thinkers, and doers. We provide a platform for people to engage with and learn from industry leaders who are tackling social and environmental issues, and connect with like-minded people from different backgrounds. We aim to build Japan's largest and most diverse platform of change makers, connecting people with opportunities and resources to tackle real-world problems.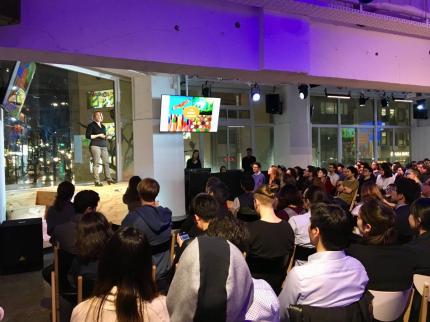 Disclaimer: Please note that we will be taking photos at this event and we reserve the right to use these in our promotional materials. If you would prefer not to appear in photos/videos, please inform a Social Innovation Japan team member on the day. Social Innovation Japan, the organising team, volunteers and sponsors are not liable for any injuries, deaths, accidents, loss of property or damages incurred during any of our events.
read more
Updates
The event description was updated. Diff#414081

2019-02-28 05:50:07
More updates
Fri

Mar 1, 2019
6:00 PM
-
9:30 PM
JST
Add to Calendar
Venue
Tickets

General Admission (incl. finger food & drink)

SOLD OUT

¥3,000
Venue Address

2 Chome-5-3 Hirakawacho, Chiyoda

Japan
Organizer